ROVANIEMI, FINLAND
Rovaniemi is situated 8km south of the Arctic Circle in Finland.This lovely town is a wonderful place to discover all four beautiful seasons. Whether it is the lovely long summer blue skies, magnificent colours of autumn, magical winter or spectacular snows of spring, Rovaniemi has plenty to offer!!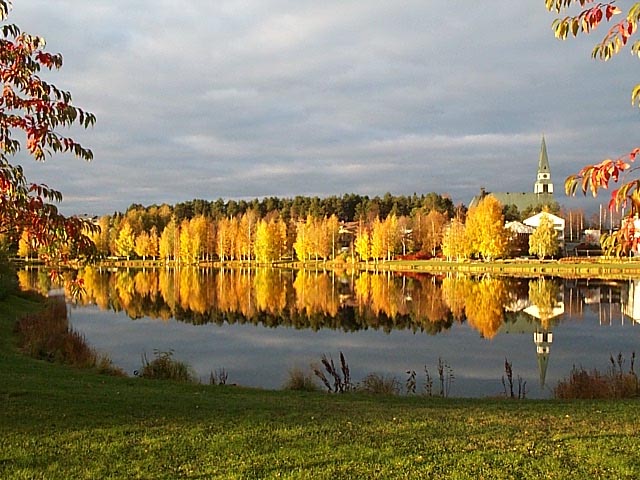 Rovaniemi town itself was founded in 1785 and it received official town rights on January 1st, 1960. However, from 1939 Rovaniemi experienced many hardships and after World War 2 had to actually be re-built. 1946 marked a new era for a 'new' Rovaniemi. Today with a population of 35 236 Rovaniemi is known as Finland's gateway to the North and South.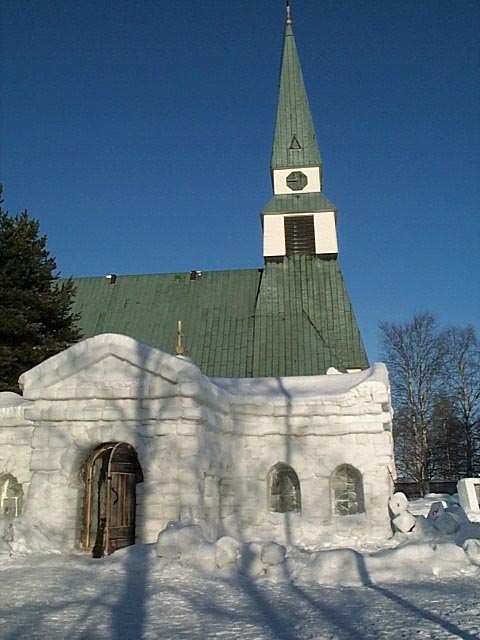 The main industry in Rovaniemi is the Service and Tourism industry. With over half a million tourists coming to Rovaniemi every year. The people of Rovaniemi are very proud to claim Santa Claus as their own. Santa's home can actually be found at the magical mountain of Korvatunturi which is located in the Savukoski area near the North East Finnish border. However daily, Santa and his reindeers make their way to his Post Office. This is located at Santa's Village on the Arctic Circle. It is here that you can come and meet Santa and send mail from his very own Post Office!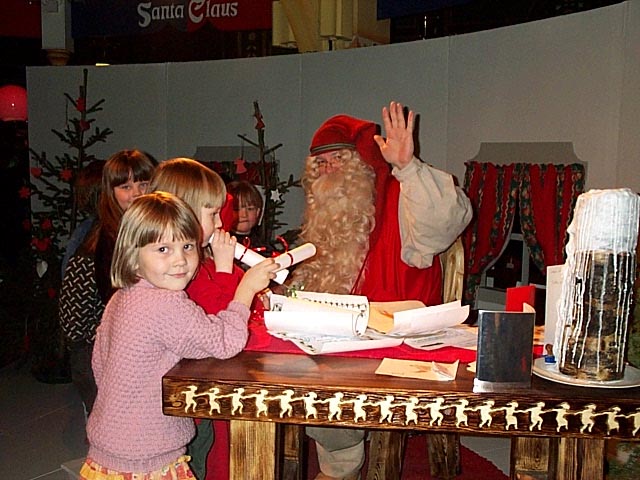 Just down the road from Santa's Village is SantaPark. The park is bursting with entertainment, rides and everything to do with Christmas that you could ever imagine!! Santa is happy to come and greet you here in SantaPark too! He is so busy, especially around December time when visitors not only from Rovaniemi but all over the world come to visit him!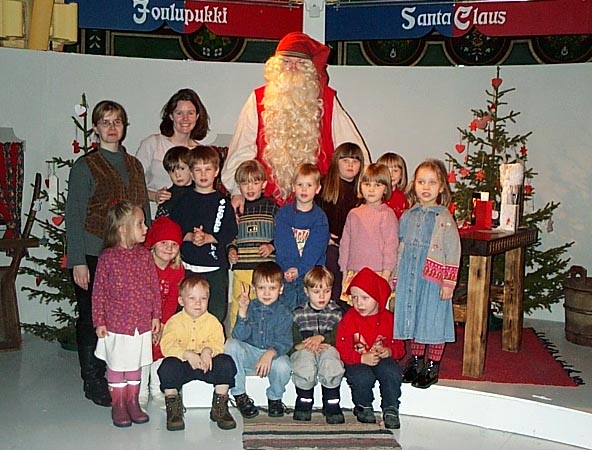 Just before Christmas 2000 we at Rovaniemi English Playschool visited Santa Claus at SantaPark. He was delighted to see us and we sang some Christmas songs for his enjoyment!
Rovaniemi has so many wonderful adventures to offer. Be it husky rides, visits to the reindeer farm, snowmobiling to a beautiful walk in the forest. You definately don't want to miss Ouunasvaara, which is just 3km from the centre of Rovaniemi. There are downhill slopes, ski lifts, jumps, marked trails, ski school and equipment hire.
Rovaniemi truly is a lovely place to spend some time, so why not pay us a visit now, if not, in the near future......